Shrink Wrapping Machine
We are a reliable company that manufactures, trades, and imports high-quality range of Industrial Packing Materials. Strapping Machine, Stretch Wrapping Machine, Shrink Wrapping Machine, Strapping Tool, Carton Sealer, and other products are available. Quality controllers direct the development of the product line. These products are also known for their ease of use, long service life, and crack resistance.
Fruits, stationery, medical drugs, salty foods, cosmetics, hardware parts, books, and boxes can all be packed and preserved using shrink wrap machines. Furthermore, this shrinking equipment is extremely useful and applicable to PVC and PE shrink film.
Our team also ensures timely delivery of even the most extensive quantity of the range by utilizing advanced machines installed in our vendor's modern manufacturing facility. We have a strong working relationship with a certified vendor. Furthermore, they were chosen after a thorough market survey, and we discovered that they never negotiate with quality standards. Vibgyor International is the best shrink wrapping machine supplier and it offers the best range of shrink wrapping machine with effective and timely delivery.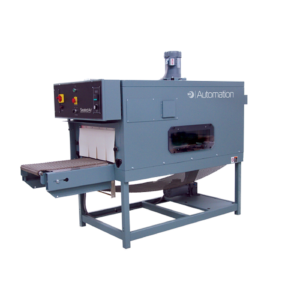 High-speed wrappers present multiple shrink challenges. Shrinking high volume, heat absorptive surfaces, or irregular shaped packages is what Shanklin® single-chamber shrink tunnels have been designed to perform with ease. A longer single chamber increases shrink capacity at higher speeds, and the fully controllable air temperature and velocity allow you to customize shrinking conditions to the application.